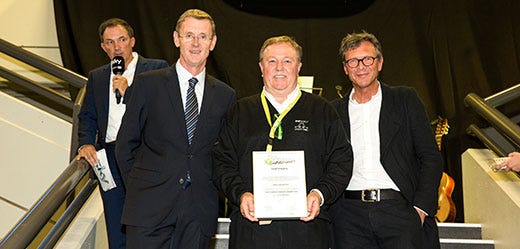 The compact folding, Motocaddy M3 PRO has been awarded a prestigious 'Product Award' at the 2015 Golf Europe Trade Show ceremony in Augsburg on Saturday 27th September.
Adjudicated by a knowledgable panel of judges - including a selection of top magazine editors, industry experts and representatives from both the R&A, plus PGAs of Europe - the Golf Europe Product Awards are held to celebrate innovative and entrepreneurial spirit within the golf industry.
The small-folding M3 PRO electric trolley was launched in spring 2014 to combine the compact-fold capacity of the M1 PRO - over 40% smaller folding that existing models - with the performance enhancing features of the S3 PRO, including a full-colour screen offering three distance measurements, round timer, lost ball timer and patented USB charging port.
The award-winning products were displayed in the Golf Europe Product Award presentation area during all three days of the show.