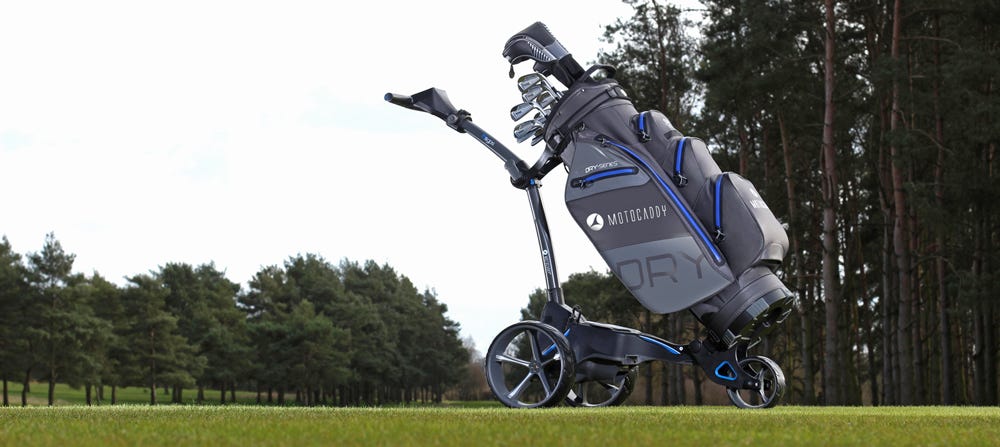 A growing number of avid golfers are likely to regard electric trolleys as the most satisfying method of getting around a golf course and an increasing number are choosing to use them more frequently, according to independent research contained in a new report charting the history of the golfing caddie - from the knowledgeable human bag carriers to the ultimate modern powered equivalents offering high tech features, while reducing strain on the body.
Of the regular golfers surveyed in eight of the world's top golf-playing nations, electric trolleys were used by up to two thirds of golfers in some markets. Nearly all golfers who did use electric trolleys were satisfied with this method of transporting their clubs, and satisfaction with powered models was much higher (76% very satisfied) than for golfers who used other methods (45% very satisfied).
The 2022 Motocaddy Report, a 28-page document published this month by the world's biggest-selling powered trolley brand, reveals that the global market for the product category is forecast to reach an estimated $200m (€177m) by 2030, representing a potential 44% rise since 2020. It also includes views about electric trolleys or 'walking carts' in some of the world's leading golf playing countries – the USA, UK, Ireland, Germany, France, Australia, Japan & South Korea – where most golfers say being able to walk without strain is the biggest benefit, as well as having more energy and enjoyment for the experience.

Findings from the survey* show a majority (65%) of German golfers find golf more enjoyable when using an electric trolley, with 35% of those who own one claiming they have been playing more golf thanks to their purchase. More than half of golfers in Germany (60%) also say they have more energy at the end of their round and over a third (35%) of those surveyed feel they play better golf as a result of using an electric trolley.
Being able to walk without the strain of carrying a bag was viewed as the biggest benefit for electric trolley users in Germany (78%), while 38% of golfers find it easier to maintain a good pace of play on the course. Most German golfers also noticed a considerable improvement in their performance on the course thanks to electric trolleys use, with 65% of golfers noticing they hit the ball better and just over a third (34%) attributing it to a more consistent swing during the round.
Interestingly, golfers in Germany are willing to make the largest investment in a new electric trolley, with the results showing that they were prepared to pay up to €1,688. As well as their willingness to spend, they are also amongst the most eco-conscious golfers, with a brand's environmental commitments being one of the most important factors in purchasing decisions.
"These findings demonstrate how essential electric trolleys have become to the modern golfer," said Oliver Churcher, Marketing Director at Motocaddy, who currently rank third behind Jucad and Ticad in the most considered electric trolley brands. "We strive to make industry-leading products that make the game easier and more enjoyable for everyone and the results of this report highlight the importance and popularity of our products in the German market.

"The report also highlights the dramatic rise of technology in electric trolleys in recent years to provide golfers with the ultimate caddie, able to transport clubs effortlessly and navigate the course for better scores with innovations like GPS connectivity and remote control.
"The fact that using an electric trolley delivers incredible health and performance benefits also seems to be accepted by most trolley users, as they see both the physical and mental value of not having to carry their clubs over long distances and tough terrains," he added.
Findings from the survey were overwhelmingly positive for Motocaddy, with three of the features on the brand's compact M-Series models regarded as the most important considerations for German golfers when purchasing a new electric trolley - descent speed control, GPS and options for customisation of extra features. Each of these desirable modern features is incorporated within the popular M-TECH model.
Motocaddy is regarded as the most considered powered trolley brand in the UK, Ireland, USA and France, plus among the top three brands in Germany and Australia. Golfers in Asia are likely to prefer ride-on carts or human caddies.
On a global basis, most golfers using electric trolleys own rather than rent them and almost half are very likely to buy another model in the near future. More than 10% of powered trolley owners in France, Germany, Australia and the USA have owned them for less than a year.

Improved scoring and performance can often be attributed to the use of an electric trolley, with nearly half playing more often (46%) and nearly a third playing better when using one. Equally importantly, electric trolleys are credited with helping golfers sustain the same amount of play when fatigue or injury might have otherwise stopped or reduced their playing time.
With 93% of electric trolley owners being 'very or quite' satisfied with their purchase, they are also likely to believe that an electric trolley represents a better investment in their game than buying a new set of clubs. This is highlighted especially in America, where just under half (49%) of powered trolley users wish they had switched to an electric walking cart sooner.
Popular model
The most technologically advanced model in the Motocaddy range, the M-TECH features downhill control technology that will maintain a constant speed while moving down a gradient - thanks to a special single motor that offers downhill braking, coupled with an electronic parking brake. A new high resolution, super-responsive 3.5" LCD touchscreen display offering fast and accurate GPS information for over 40,000 worldwide courses, is added to hand-stitched genuine leather handle grips, polished chrome detailing and carbon-fibre styling available exclusively to M-TECH owners.
*The research was conducted among German men and women golfers in July and August 2021 by leading sports research company Sports Marketing Surveys, with the aim of understanding how, when and why different groups use electric golf trolleys to convey their clubs around the course.