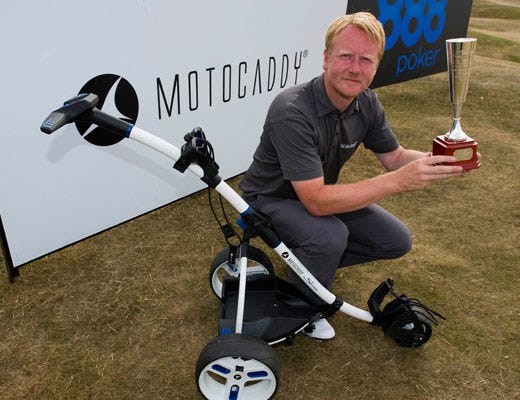 Paul McKechnie won the inaugural Grant Property Investment Championship at Moray Golf Club in Lossiemouth on Friday, beating three golfers by one stroke in the sixth event of the PGA EuroPro Tour season.
Scotsman McKechnie, the first ever winner of the PGA EuroPro Tour Order of Merit in 2002, turned back the clock with a final round 70, one under par, to finish eight under. Richard Prophet, Will Roebuck and McKechnie's playing partner Daniel Wardrop finished one behind on seven under.
The 36-year-old from Braid Hills Golf Club opened his final round with a birdie to pull one ahead of joint overnight leader Wardrop (Didsbury Golf Club), though the Manchester man drew level when he took four on the par-five second.
McKechnie completed the remainder of the front nine to par, but a dropped shot at 13 saw him fall level with Wardrop, who was having a mixed round which to that point had included three birdies and as many bogeys.
A birdie at 14 saw Wardrop lead on eight under but when he bogeyed 16 and McKechnie birdied the same hole, the lead swapped and McKechnie saw himself home with two pars.
He wins £10,000, a brand new Motcaddy trolley and sponsors Grant Property Investment presented him a set of bagpipes, while host club Moray gave the top three a bottle of their club whiskey.
"It was great that the EuroPro has been able to come up here to this fantastic golf course," said winner McKechnie. "The locals have been great and we had a huge amount of support with people coming out to watch, which was fantastic."
A two-hour highlights package of the Grant Property Investment Championship will air four times on Sky Sports HD on Wednesday, July 24. The next PGA EuroPro Tour event is the Kingspan Concra Wood Open, July 24-26 at Concra Wood Golf Club in Castleblayney, Ireland.