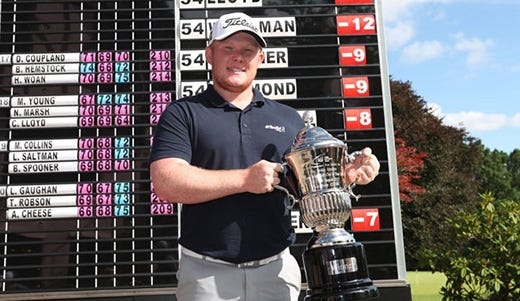 Chris Lloyd moved a step closer to the coveted £250,000 prize with a record equalling third title win in a single HotelPlanner.com PGA EuroPro Tour season at the Nokia Masters at Mannings Heath Golf Club & Wine Estate.
Lloyd (The Kendleshire) fought off fierce competition in the form of Guy Woodman (ProAgenda.com) who scored a final round of nine under par (63) to finish -12.
It wasn't enough to stop Lloyd who collected nine birdies and just one bogey in a final round of eight under par (64) to finish -14.
"I'm delighted, it was a very exciting day. I knew if I got off to a quick start I might have a chance," said Lloyd, who wins £10,000 as well as a brand new Motocaddy S3 PRO electric trolley with lithium battery, Bushnell Pro X2 Range Finder and Bolle sunglasses.
Reflecting on his impressive final round of 64 he said: "My putting was key, in my previous two wins my putting won me the tournaments, after a change in clubs recently I went back to my old faithful this week and it certainly did the trick."
Lloyd, who hit both the front and back nines in 32 respectively, started four shots behind tournament leader Andrew Cheese (Sutton Coldfield Golf Club) but finished seven ahead of him by the end.
Completing his final round in the same group as closest rival to top spot in the Race To Amendoeira Nick Marsh, Lloyd remained unfazed and asserted control early on.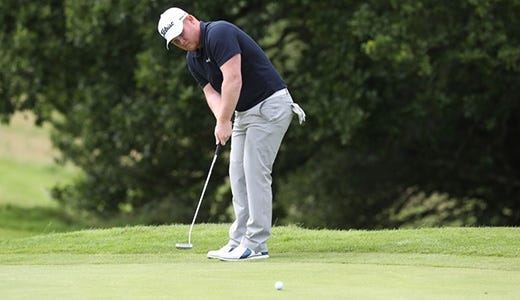 He said: "It's nice to lay down your mark and let them know who was boss today. I'm sure Nick will have some strong weeks ahead though."
On equalling the EuroPro Tour win record and moving one win from the £250,000 four-win bonus he said: "It has just got very real, I'm playing in five more events with the chance to win the money and I like my odds."
Lloyd extends his lead at the top of the Race To Amendoeira by more than £14,000 with five events remaining before the EuroPro Tour Championship in Portugal.
Highlights from the Nokia Masters at Mannings Heath will air on Sky Sports Golf on Tuesday, 15 August. The HotelPlanner.com PGA EuroPro Tour continues with The Motocaddy Masters at Wychwood Park Golf Club, Wednesday, August 9 – Friday, August 11.
Motocaddy has been selected as the 'Official Electric Trolley' of the PGA EuroPro Tour for the twelfth consecutive year. The PGA EuroPro Tour is the leading developmental tour in Europe with the top five players from the Order of Merit receiving exemptions onto the 2018 European Challenge Tour.