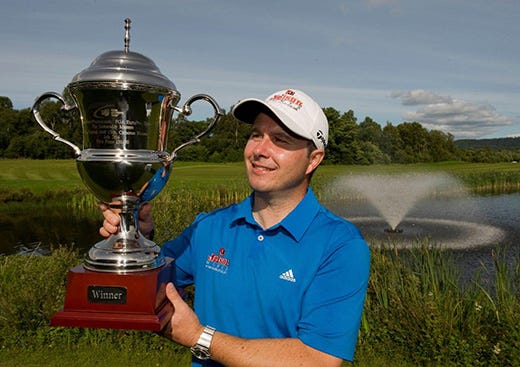 Matthew Cort claimed his second HotelPlanner.com PGA EuroPro Tour win of the season with a play-off victory in the Motocaddy Masters at The Carrick on Loch Lomond.
Cort (Beedles Lake Golf Club; 69, 68, 73) began the day at five under par but despite shooting a two-over-par 73 in his final round to join Greg Payne (Chobham Golf Club; 71, 70, 69), Mark Young (Clitheroe; 69, 70, 71) and playing partner and roommate Andrew Marshall (Bawburgh Golf Club; 69, 68, 73) in a four-way play-off on the 18th.
Payne, Marshall and Cort all found the green in two on the extra hole, with Young on in three after finding the rough from the tee. Payne and Marshall, however, had long putts and despite knocking them close had to watch on as Cort sunk a 12-foot birdie putt for the win, having bogeyed the 18th in regulation play needing a par for the win.
"I thought I had blown it coming down the last in regulation play," admitted Cort, who wins a brand new Motocaddy trolley of his choice, a Bushnell Tour X Range Finder and Bolle Sunglasses as well as the £10,000.
"I started pretty well but then ended up a couple over par for the day. Myself and Andy thought we were out of it. It was a funny day and there were some tricky pin positions and the guys must have struggled.
"I hit a good driver and six iron in the play-off and it was nice to hole the putt. I have always seemed to win by a couple of shots when I have won tournaments so it was nice to win one where I needed to hole a putt, it is a great feeling.
"To be top of the Order of Merit is great. I have only played three events so it is amazing to have two wins and an eighth. When I first entered my first event I didn't expect to have two wins under my belt so fast. I will go home, enjoy the weekend and start working on the next one."
Cort's win means Payne slips to second on the Race To Desert Springs but with two outright second placed finishes and this tied second, the Chobham golfer has further cemented his place in the all-important top five.
The HotelPlanner.com PGA EuroPro Tour's next stop is the Lookers Championship at Close House in Newcastle, where the tournament runs from Wednesday, July 27 until Wednesday, July 29.
Highlights of the Motocaddy Masters air on Sky Sports on Tuesday, July 26.